Autoclaved aerated concrete panel ( ALC panel ) is a kind of new lightweight green construction material, which takes cement, lime and silica sand as the main raw materials. Its density is relatively small compared with general cement material, and it has good fire resistance, fire prevention, sound insulation, heat insulation, heat preservation and other unparalleled performance.
Features of AAC Panel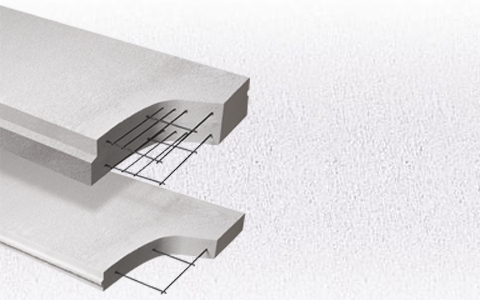 Lightweight
AAC panel is a lightweight building material with a specific gravity of only 500~650kg/m3, which is just 1/4 of concrete and 1/3 of clay brick, and is known as concrete floating on water.
Fire resistance
AAC panel is a non-combustible inorganic material with excellent fire resistance, and fire resistance limit for 100mm thick AAC wall panel> 3 hours; 125mm thick fire resistance can reach more than 4 hours, is a first-class fireproof material.
Thermal insulation
ALC panel features good thermal insulation performance, the thermal conductivity is only 0.11-0.16W/M.K. 125mm thick AAC panel can achieve the thermal insulation effect of an ordinary 370mm thick brick wall.

AAC panel is an energy-efficient building material that can achieve more than 65% energy savings. When using reasonable thickness, it can be used in cold areas with high insulation requirements, and also in regions with hot summer and warm or cold winter.
Sound insulation
ALC panel is a porous material composed of a large number of uniform and disconnected small holes, which has good sound insulation performance. The average sound insulation effect of a 100mm thick AAC panel can reach 40dB, that of a 120mm thick AAC panel is 45dB, and the sound insulation index of a 150mm thick AAC panel is 48dB.
Seismic resistance
AAC panels can adapt to large interlayer angle displacements, allowing interlayer displacements of 1/150, reaching 1/120 when special joints are used, and in all cases of joints, the panels will not fall off when the interlayer displacements are 1/20.
Environmentally friendly
AAC panel is a non-radioactive building material with an hourly exposure of 12γμ/h, which is equivalent to the level on outdoor grass. There is no harmful gas escaping from the production process, so it is a green material.
Convenience
ALC panels are processed by on-site actual measurement after sizing, and are factory prefabricated products with high precision, which can be planned, sawed and drilled.
It adopts dry work, easy installation, simple process, and eliminates the traditional wall construction column, waist beam, plaster, and directly scraping putty, which greatly shortens the construction period, and improves efficiency and construction quality.
Cost-effectiveness
The use of ALC as wall material can effectively increase the usable area of the building and reduce energy consumption. Under the same sound insulation and fire prevention requirements, the thickness of ALC panels is minimal, and there is no need for auxiliary components such as structural columns, ring beams and waist beams, which can reduce the wall load and thus reduce the building cost.
Crack resistance
ALC panels are reinforced by rust-proof treated steel reinforcement, which is made by high temperature, high pressure and steam maintenance, with the smallest shrinkage ratio among inorganic materials, and embedded with special polymer binder to effectively prevent cracking.
Aesthetics
AAC panels can be made into artistic patterned panels, and the material can achieve the brick pattern, checkered pattern, horizontal pattern, imitation brick, imitation stone and other effects directly after installation.
Applications of AAC Panel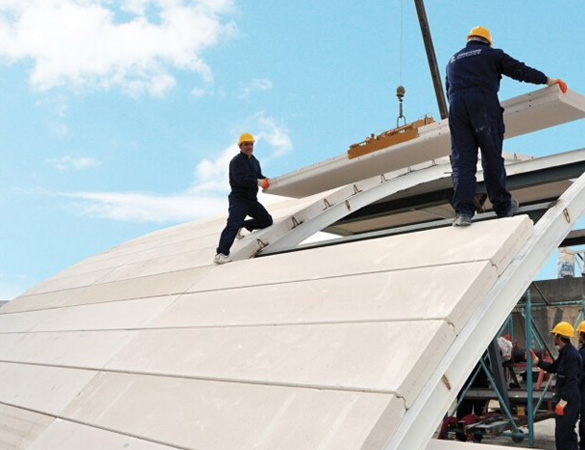 Renovation projects of old buildings

The use of lightweight external wall panels is a wise choice for this kind of project. Compared with other exterior wall materials, lightweight insulation wall panels are easy and fast to install, which can shorten the construction period and lower the building costs.

In addition, the construction process has less interference with the residents' normal work and life, moreover, it has the advantages of waterproof and anti-ageing, so AAC panels are getting increasingly popular in such projects.
Public buildings
AAC panels can be used for internal and external partition walls of various types of public buildings such as office buildings, hospitals, school classrooms, office buildings, shopping malls, supermarkets, hotels, etc. They can also be used for infill walls (including bathrooms, kitchens, partition walls, partition walls and external walls, etc.) of residential buildings and apartments and other civil buildings.

The common feature of these buildings is that there are more compartments, the internal pattern is more simple and uniform, and the internal structure often needs to be adjusted according to customer needs, so it is more suitable for using lightweight partition walls.
Interior decoration
At present, the material used as room partition is mainly light steel keel gypsum board, which has low strength, poor sound insulation, poor durability and no obvious advantage in price compared to lightweight AAC wall panel. Therefore, a large number of users now turn to using AAC wall panels as room partitions.
Steel construction
Due to the lightweight of AAC, it has become the main wall material used in steel structure buildings, including factories, public buildings, residential buildings, etc.